Natural Cultured Pearl Jewelry
Natural Pearls

Naturally colored to shine bright in natural hues
Betty Collection

Select from our favorite metallic colors
Lengthen

Extend the Betty Collection by connecting them
Twist and Mix

Wear them together for a bright bouquet
Signature Twist Bracelet

Three sizes of natural pearls
Signature Twist

Twist as a choker or wear it as strands
Natural Pearls
Naturally colored to shine bright in natural hues
Betty Collection
Select from our favorite metallic colors
Lengthen
Extend the Betty Collection by connecting them
Twist and Mix
Wear them together for a bright bouquet
Signature Twist Bracelet
Three sizes of natural pearls
Signature Twist
Twist as a choker or wear it as strands
My story
I grew up in St. Louis, where I cultivated a passion for vintage jewelry and hand-making accessories like silk-tie belts and cigar box clutches. After college I journeyed to Japan where I became fascinated by the fine art of gifting (beautifully wrapped tiny boxes).
I continued my journey to China where I befriended pearl artisans from Zhuji and founded Hazel & Marie in 2012, I spent a decade learning about their trade & traditional methods of designing pearl jewelry.
Our Story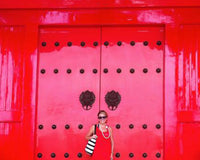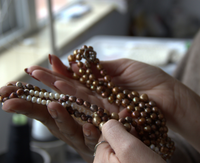 Our Methods
I spent many years finding the highest quality pearl farms and skilled artisans to work with in order to maintain her commitment to producing heirloom quality jewelry.
My appreciation for heirloom jewelry, was passed down to me by my mother, grandmother and great grandmother (Hazel). The foundation of my passion for recreating classic, quality pieces, each hand knotted by tradition.
Working with Cultured Pearls
Officially the oldest gemstone in the world, and first recorded in 2000 BCE, pearls and have been adored for thousands of years. Today's cultured pearl development techniques started in the early 1900's are are still used today. Freshwater cultured pearls come from mussels and grow in a wide variety of shapes and natural colors. As freshwater pearls are solid nacre, they are also quite durable, resisting chipping, wear and degeneration.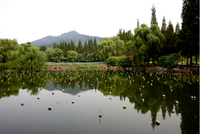 Hand-Knotted Strands
Using traditional methods passed down through jewelry makers over generations, our jewelry artisans patiently hand drill each pearl and use only the finest silk thread to hand knot each pearl together.  This ensures that each pearl's narce is protected from damage caused by rubbing together.  It achieves a lovely flexibility and movement for your string of pearls, and if the strand breaks, only one pearl will come loose.