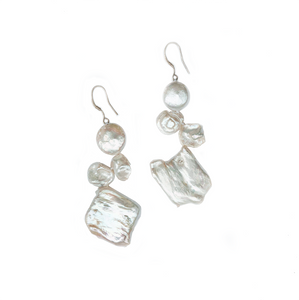 A statement piece. The genuine pearls are extra large and dangle like an Ice Sculpture. 

• 9-22mm cultured baroque pearls
• Naturally dyed 
• 3" length 
• Sterling silver 
• Natural, Imported 
The quality and craftsmanship of our jewelry reflect heirloom pieces passed down by our grandmothers, Hazel & Marie.  All of our products are made from genuine, cultured freshwater pearls hand-knotted on silk thread.